FAULKNER FAMILY NUTRITION
Nutrition & Lifestyle
Solutions for
We don't cook from scratch with real ingredients.
We eat less real food and more food-like substances.
We don't know or care where our food comes from.
We eat in the car, at our desk, at the kitchen counter; we eat distracted.
We move our bodies less, stay idle more, and ignore our relationship with nature.
Busy is a badge of honour. We do not sleep well, rest, restore, or recharge.
Step 1:  Crave Change
Step 2:  Embrace Support
Step 3:  Take Action

↓
Mandy Faulkner, B.A, R.H.N
Current lifestyles, diets, and the ways we connect or don't connect, with ourselves, others, and nature are leading us further away from what makes us thrive.
​It is during this shift that our body and mind begin to whisper that something no longer feels right; fatigue, moodiness, anxiety, poor concentration, bloating, aches and pains, and so on.
Sadly, we are encouraged to ignore these whispers and push through.
However, if we don't pay attention to the whispers and address the root cause, they become louder and louder until one day we can no longer ignore them. The whispers become thunderous roars.
These roars become our illnesses; our dis-ease.
Throughout my own evolving journey towards health and wellness, and that of my family, my goal is to support others to regain control over their health.
"It's not an up and down type of diet, it's a lifestyle change."
"I look for someone that wasn't promising a magic formula, but a realistic routine.
Mandy worked at my stubborn pace, helping me change bad habits and convert laziness to actually getting things done.
My energy levels are much better, my mood is better and most importantly I feel better. All changes that she helped me go through are not just reasonable but I like them, so it's not an up and down type of diet, it's a lifestyle change."
– Aline S.
Focus: Gut & Hormone Health
Healthy Gut & Hormone Solution
"By fueling my body I reduced my sleep and anxiety problems."
"I reached out to Mandy because I was struggling a lot with nausea, digestive issues, sleep and anxiety. She helped me learn about nutrition, helped me change my diet to eat foods that will fuel me and not upset my body.
By the end I no longer had nausea or digestive problems, I know which foods upset my body, and by fueling my body I reduced my sleep and anxiety problems.
Added bonus – lost 15lbs too! Thanks Mandy!"
– Melissa C.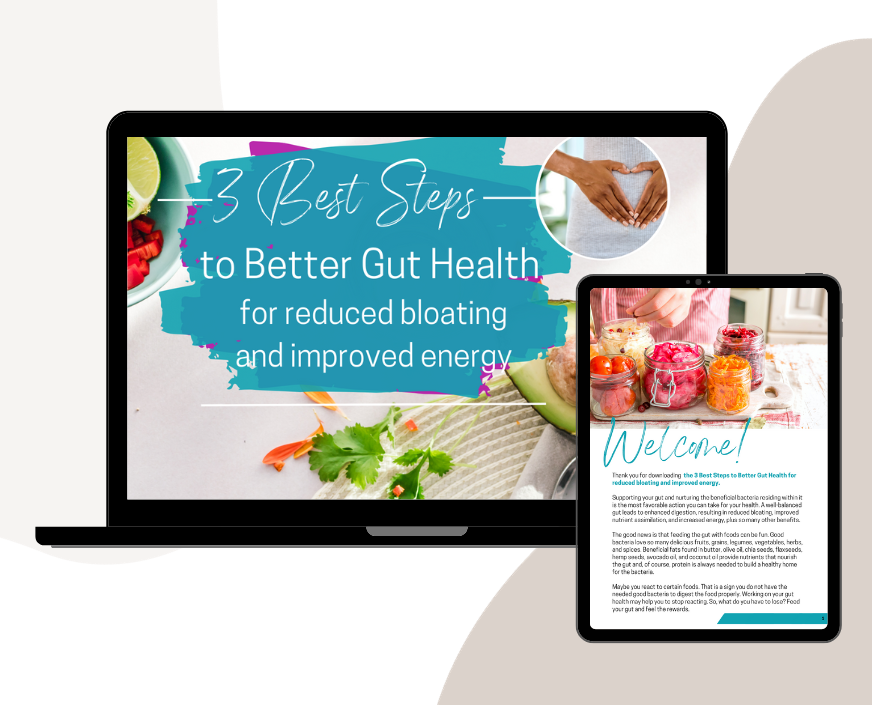 The 3 Best Steps to Better Gut Health
for reduce bloating and improved energy
If you're aiming to enhance your overall well-being with the benefits of improved energy, digestion, and reduced bloating, then this eBook is an excellent resource to kickstart your journey towards optimal gut health.